Resin bonded and resin bound installations are becoming increasingly popular for outdoor flooring, driveways, pathways, and other surfaces. However, it is important to choose the right type of installation for your needs. There are several factors to consider when selecting the right type of installation, such as cost, durability, ease of maintenance, and aesthetic appeal. This article will provide an overview of the different types of resin bonded and resin bound installations available on the market today so that you can make an informed decision when choosing the best option for your project.
Resin bonded installations
An increasing number of resin bonded installations are now being constructed with two-component epoxies due to their superior strength and longevity. Not only are these epoxies highly reliable, but they are usually green in color which makes them visually appealing as well as easy to keep clean and maintain for prolonged periods of time. Resin bonded installations are ideal for areas in which cracks or other damage from traffic is occurring. They can also be used as an alternative to tiling where a tile adhesive is not available.
Resin bound installations
Resin bound installation is a popular surfacing solution that offers a variety of benefits. It is an attractive and low-maintenance option for driveways, pathways, and patios that are both aesthetically pleasing and highly durable. Unlike other forms of surfacing, resin bound installation requires minimal maintenance and can last up to 15 years or more with proper care. It also provides excellent drainage capabilities while creating a smooth, non-slip surface that is safe for pedestrians and vehicles alike. With its many advantages, it's no wonder why so many people are choosing resin bound installation as their preferred surfacing solution.
Which colours are best?
Resin bound and resin bonded driveways are a great way to give your home or business a modern, stylish look. With so many colours and textures available, it can be hard to decide which ones are best suited for your driveway. Natural colours tend to be the most popular choice, but there are also bold and contemporary options available. If you're looking for something a bit more unique, metallic colours may be the perfect fit. No matter what you choose, resin bound and resin bonded driveways offer an attractive and low-maintenance option that will last for years to come.
Red
Red is an incredibly flexible color that looks amazing in resin-bonded driveways, pathways and patios. It can be used to create a modern; contemporary look or to give your project a warm, traditional appeal and personal touch. Red is a timeless choice for a single color, as it creates bold and clean lines that can really make an impact. Combining it with complimentary colors like silver, black or green creates interesting contrasts. Reds can also be combined with other colors to create custom designs such as geometrical shapes, numbers or logos.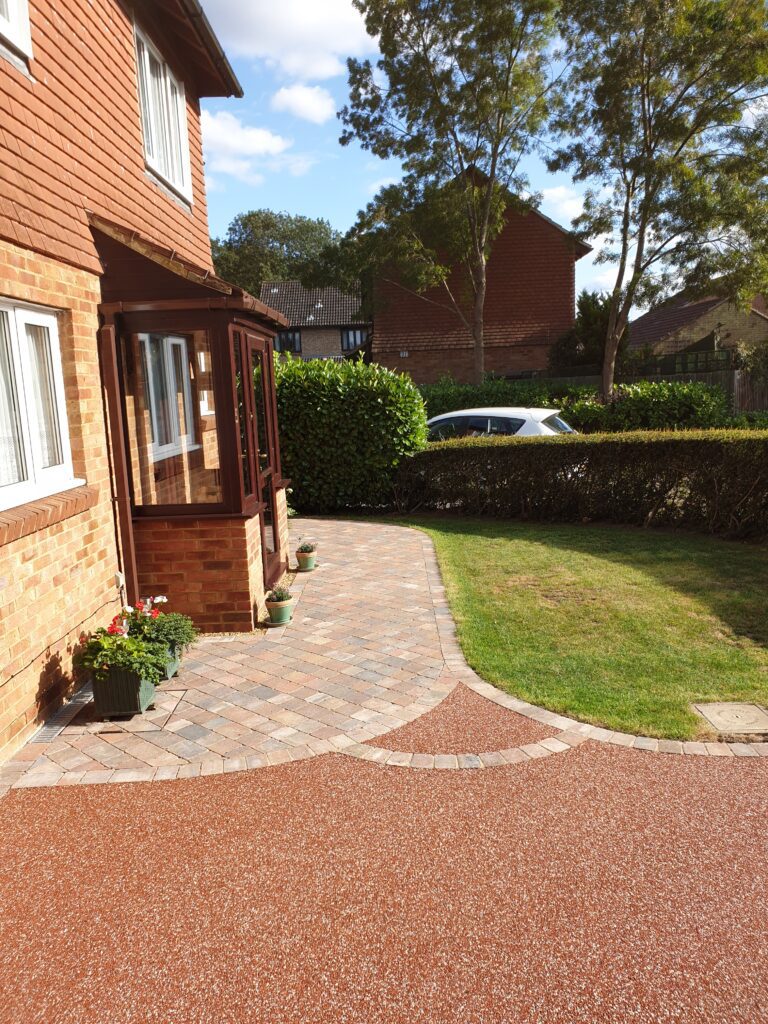 Gold & Yellow
A pathway paved with a striking combination of gold and yellow leading all the way to an inviting front entrance, creates an impressive and inviting first impression. Gold and yellow coloured resin-bound aggregates are the perfect fit for any type of property, making them a great option for surfacing.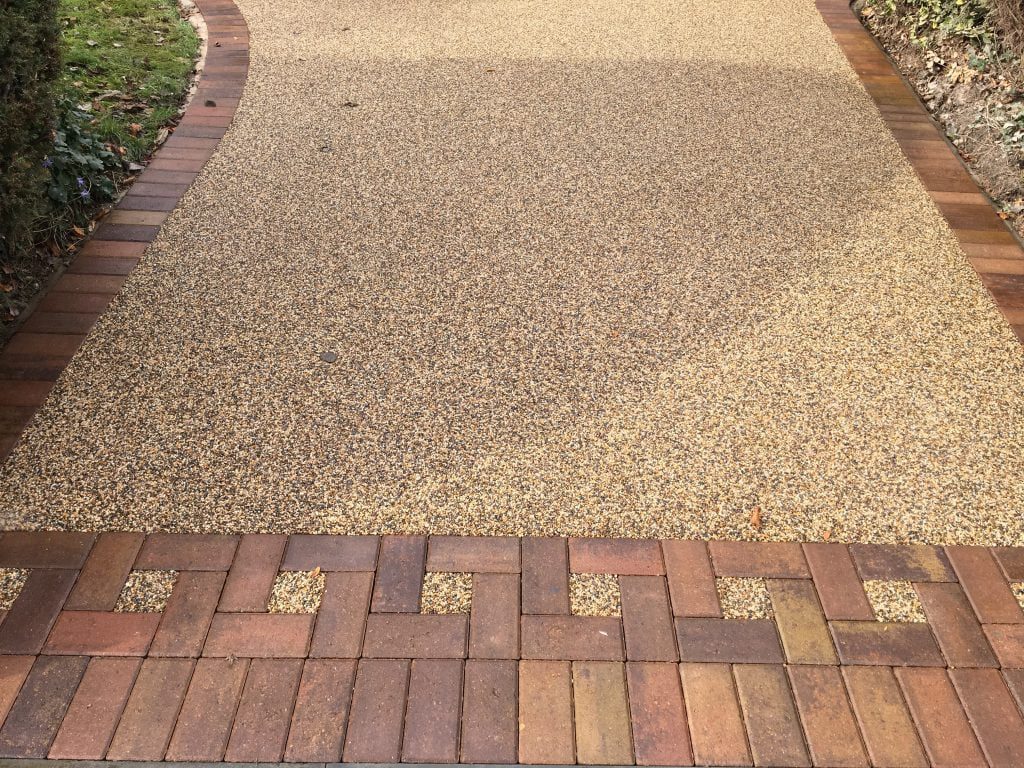 Grey & Silver
Grey & silver have been gaining popularity as home improvement options in recent times. Furthermore, grey aggregate has become a go-to choice for resin bound driveways, patios; pathways due to its modern look; attractive appeal. Grey is a great option when it comes to home decor because of its wide range. You can choose between lighter shades like silver and platinum, or opt for darker shades. Silver is the perfect balance between black and white, making it a neutral colour that pairs well with most living spaces. Darker shades of grey are especially used for outlining and defining boundaries. But any contrasting or complementary colour combination will also create an attractive border line.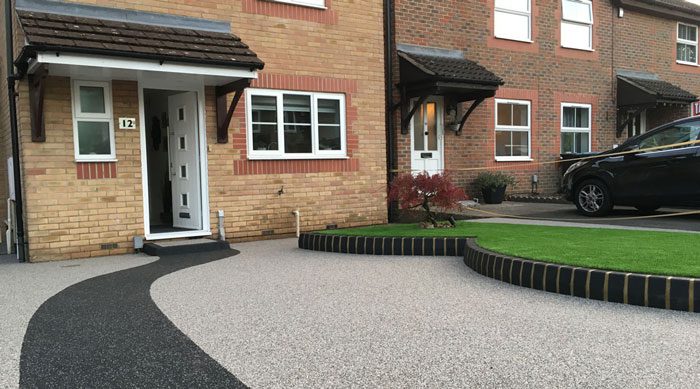 White, Cream & Beige
Resin bound aggregates in shades of white, cream, and beige bring a contemporary touch to any space. You can pick from shimmering whites to various subtle creams. Whatever your preference, these aggregates provide an ideal finish. If you're leaning towards design options which require lighter hues, don't forget the practicality aspect. The dirt and dust can be more effortlessly seen on the walls of a house that's painted white for example. Even with a delicate resin driveway in those shades, it is important to clean it regularly to ensure that its stunning effect isn't compromised.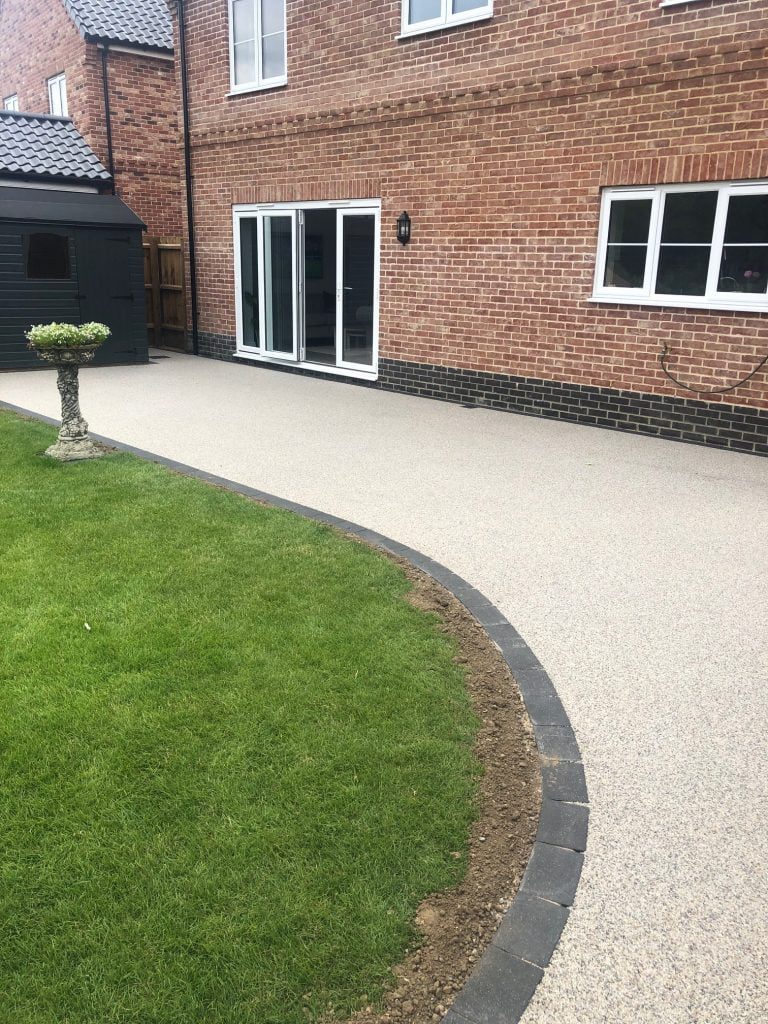 Pink
Pink has a certain charm that's appreciated by many and can make any resin-bound project look stunning. It's not too bold, yet it provides a subtle elegance that isn't easily replicated. A variety of different shades of pink are available to suit your preferences too. Pink resin driveways provide an eye-catching but not overpowering aesthetic to your home and have been a go-to choice for many homeowners in the last few years.
The Ultimate Decision
Resin bonded & resin bound systems are among the most popular surfacing solutions out there. With multiple colours to choose from, these can be used for a variety of applications; driveways, paths, patios, cycle lanes and carparks all being some examples. Ultimately, they possess considerable practicality and are a great choice for anyone looking to upgrade their property. Both systems are suitable for use in commercial and residential surfacing.
Resin bound and resin bonded surfaces have some distinct differences. A resin bound surface is permeable, has a glossy and modern look, whereas a resin bonded surface cannot be permeable and looks more like loose gravel. For the best resin bound installers in the area, contact us today.