What is a Resin Bound Driveway? How is it Different from Other Types of Driveways?
Resin bound driveways are becoming increasingly popular, due to their durability and low-maintenance requirements. They are a type of permeable paving system, which means that rainwater can pass through it and be absorbed into the ground. This allows for better drainage, making them an ideal choice for areas with heavy rainfall.
Resin bound driveways consist of a combination of stones and resin, which is poured over the surface and then trowelled flat. This creates a smooth, hard-wearing surface that is resistant to cracking or sinking. It also looks great, as the stones come in a variety of colours and textures to create unique designs.
These surfaces can also be used in other applications such as patios, walkways, ramps, basketball court, paths, and pool decks. The same principles apply – a combination of stone-resin or gravel-resin surfaces are used to create stunning outdoor spaces that require minimal maintenance.
The Benefits of Installing a Resin Bound Driveway
Installing a resin bound driveway offers homeowners a number of benefits:
It is an attractive, durable and low maintenance surface that can last for years with minimal upkeep.
The installation cost is also relatively low compared to other driveway surfaces, making it an affordable option for many homeowners.
The resin bonded gravel driveway provides excellent drainage capabilities, making it suitable for use in areas with heavy rainfall or snowfall.
With its attractive appearance and long-lasting durability, a resin bound driveway is an ideal choice for creating a beautiful entrance to your home.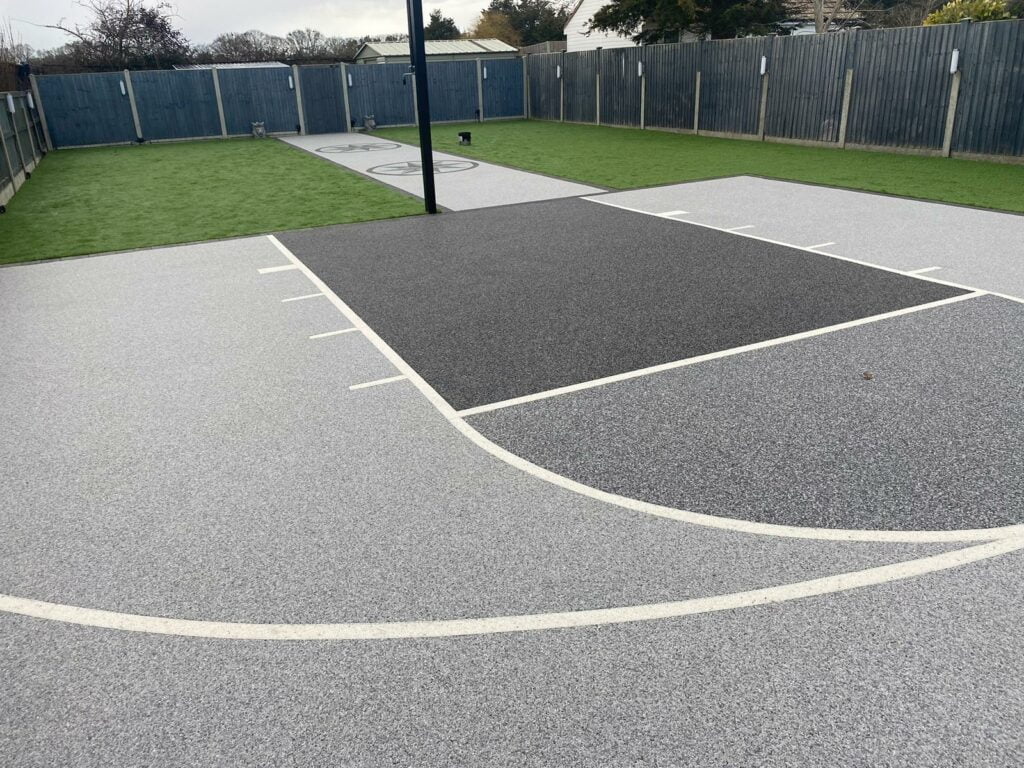 How to Choose the Right Resin Bound Driveway Installation Company
Are you looking for a specialist contractor to install your resin bound driveway?
If so, choosing the right company is essential. With so many experienced driveway installers, it can be difficult to know which one to choose.
The key factors that should be considered when selecting a resin bound driveway installation company, are the range of services offered, their experience and expertise, and customer reviews.
By taking all of these factors into account, you can make sure that you are selecting the best possible service for your needs.
At SudsUK, all of our professional installers receive thorough training and certification as a SuDs approved resin bound installer. With over 50 years' experience in the business, we can guarantee that all of our work is done to the highest standard and stands out from the rest. Customer satisfaction is number one on our list.
Contact us for a free quote today at [email protected]
Tips for Maintaining Your Resin Bound Driveway After Installation
Cleaning your resin bound driveway should be done regularly, as this will help remove dirt and debris that can build up over time. You can use a jet wash system to spray the driveway, but the pressure must be no higher than 150 bar and the nozzle should be kept a minimum of 20cm away from the surface. Diluted bleach can be used to get rid of stains and any moss/algae build up, but the area must be thoroughly rinsed with water afterwards. Most resin bound driveways only need a quick rinse with clear water and a good brush with a stiff brush.
It's also important to seal the driveway every few years in order to protect it from the elements and keep it looking new.
Additionally, you should check for any cracks or damage on a regular basis and repair them as soon as you notice them in order to prevent further damage from occurring.
By following these tips, you can ensure that your resin bound driveway remains looking great for years to come!