In this article, we look at the true costs of resin driveways
A driveway is more than just a place to park the car.
Your driveway acts as the first impression of your home. Because of this, it can increase (or decrease) the value of your property. If your driveway has seen better days, it's time for a resin makeover.
But how much does a resin driveway cost?
We've put together this guide to help you answer that question. So let's get started.
How Much Does a Resin Driveway Cost?
It's hard to come up with an average cost of resin driveway installation. Since every project is different, the price between two separate driveways can vary widely.
But most driveways will cost about £50-£70 for every m².
There are many things that can make that price go up (or down) though. Here are a few factors you need to consider when thinking about the price.
Size and Layout of the Driveway
If you have a large driveway, it's going to cost you more money. But it doesn't just come down to size.
Does your driveway have awkward angles or hard-to-reach areas? Complicated layouts can also make the price go up.
You might have to spend more than average if your driveway has an odd shape even if it isn't long or wide.
The Aggregate Type
There are several different types of aggregate. In most cases, you'll use 5mm aggregate, but depending on the depth of your driveway, you might have to use a larger or smaller size.
This can affect the overall cost of your resin driveway.
The Condition of Your Driveway
Before you can install a resin driveway, you need a solid base, which can be made of tarmac, concrete, etc.
If you don't have a base, you'll need to create one first. You can then add an overlay of resin on the top. This additional step will add extra expenses to the price.
Even if you already have a base, you need to take a look at the condition of your current driveway. Is it full of cracks or other damages? You'll have to repair any flaws before installing the resin, which can also make the cost go up.
You'll need to consider the edges of your driveway as well.
Resin needs a stable rim along the sides of the driveway, such as a wall of brick or slab. If you don't have solid edges, the resin won't install properly. You can add these edges easily, but you will have to invest more money into the project.
Why a Resin Driveway Is Worth the Cost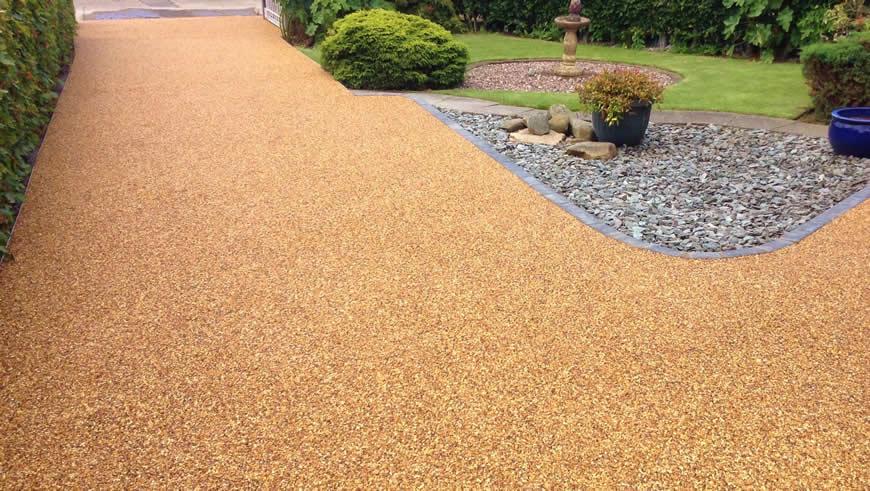 A resin driveway might cost more than other driveway materials, but spending the extra money is worth the investment.
Why?
Here are a few reasons a resin driveway is a better choice than other options.
Durability
Resin driveways are incredibly durable, which extends their lifespan. You can expect your resin driveway to last at least 20 years. If you keep it well-maintained, it can last even longer.
You might not have to replace your driveway again.
Resin driveways are also stain-resistant. If you spill something as you're getting in or out of the car, you won't have to worry about it discolouring your surface.
Since resin is resistant to the sun's UV rays, it won't fade over time either. This means your driveway will look as good as it did on installation day for years to come.
This durability will prevent your driveway from cracking, developing potholes, or wearing out quickly.
Porous
Resin is a porous material, meaning it absorbs any water. This can benefit your driveway (and your yard) in a few ways.
More importantly, you won't have to worry about any freezing damage during the cold season.
If water gets into your driveway and freezes, it will expand. This can lead to cracks and other issues. But since resin absorbs water, it will stay in good condition throughout the winter.
Appearance
You have a lot of flexibility when it comes to the appearance of your resin driveway.
Resin has many different design options. You can give your driveway a more natural appearance or a modern flare. Whatever you choose, the resin will create a beautiful, smooth finish over the top.
You can also get creative with the colour options. This can help you find a style that matches the rest of your home and boosts your curb appeal.
Easy to Take Care Of
A resin driveway pretty much takes care of itself. You don't have to do anything to keep it in good condition.
The only thing you have to worry about is pressure washing it every other year or so. Since resin won't crack or wear out quickly, weeds won't be able to find their way through the material and pop up in the middle of your driveway.
This means you get to sit back and enjoy your driveway without carrying out a lot of difficult maintenance chores.
Breaking Down the Average Resin Driveway Cost
So how much does a resin driveway cost?
Again, it depends on a number of factors, such as the shape and size of your driveway, the exact type of aggregate you use, and the condition of your current driveway. It's a good idea to talk to your contractor about the price so you know what to expect.
Are you getting ready to install a resin driveway on your property?
Make sure you get in touch with us to learn how we can help!